Lindy, a global technology provider of combined AV and IT connectivity solutions and a consistent partner to the IT and AV industry, continues to grow. In addition to many strategically important measures for market positioning in Europe, Lindy completed its new headquarters in Mannheim in September. Both the increased need for warehouse and logistics space and the growing number of employees made it necessary to move to a larger space, more than twice the size of Lindy's previous premises, at the end of September. The new state-of-the-art building was erected with the aim of increasing efficiency at the Mannheim location in order to further promote the company's growth.
The 10,000m² site now houses a modern, heated high-bay warehouse, a picking warehouse and a large office building with training and seminar rooms, in which the range of services offered to Lindy partners and customers is being further expanded and improved.
The new company headquarters in Germany's "City of Innovations and Inventors", Mannheim, is located on the neighbouring site of the previous administration building. Thus, a picking and high-bay warehouse and the administration building are located next to each other at this location. Due to the immediate proximity to the A6 and A656, the location is also very easy to reach logistically.
"The great success of the last few years and the increased number of customers and deliveries as well as the increasing international business required this step. Growth was no longer possible in the previous building," says Jürgen Lindenberg, Managing Director and shareholder of the Lindy Group. "We have opted for an additional office building of our own, which will enable us to more than double the storage space in the previous building. Our customers will benefit from this as we can further improve and expand our customer service through optimized processes and higher availability. This means that our location also offers plenty of room for further significant expansion in the future," continues Lindenberg.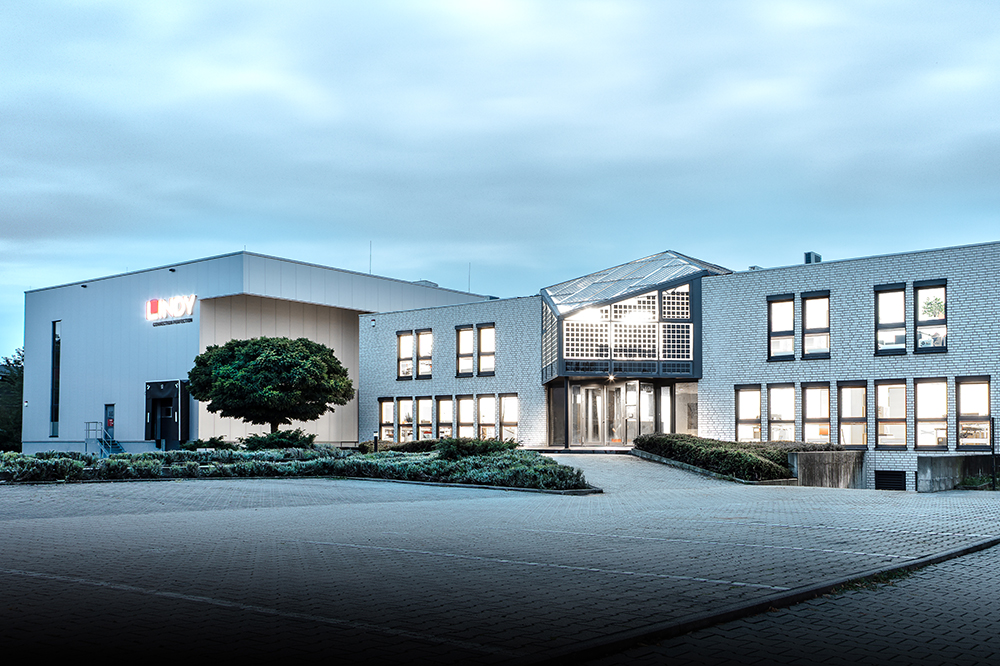 "Our success is based not least on the commitment of our employees and we want to offer them a more contemporary working environment in order to meet future challenges," explains Christian Westenhöfer, Head of Global Marketing & Brand Management. "Our low employee turnover for years speaks for itself. And we want to offer our employees something in return. At the same time, we remain authentic and identify with the Lindy brand. This is reflected at every location in the new building by unique, optical brand elements."
Lindy focuses on climate protection
"Great importance was attached to sustainability in the design of the building. The building is built according to the latest energy standards and relies on renewable energies for its energy supply," explains Alexander Starke, Project Manager New Building at Lindy.
The glazing of the building reception hall consists of embedded, transparent photovoltaic modules with a total installed output of 32.4 kilowatt peak (kWp), which produce between 20 and 25 megawatt hours (MWh) of green electricity per year for the building's own needs. In addition, the building is also supplied with heat and electricity via its own combined heat and power unit (CHP). The gas-fired BHWK delivers an electrical output of 20 kilowatts (kW) and a thermal output of 44 kW; it produces an estimated 98,000 kilowatt hours (kWh) of electricity and 215,600 kWh of heat per year.
This video documents the move and inauguration of the new head office: