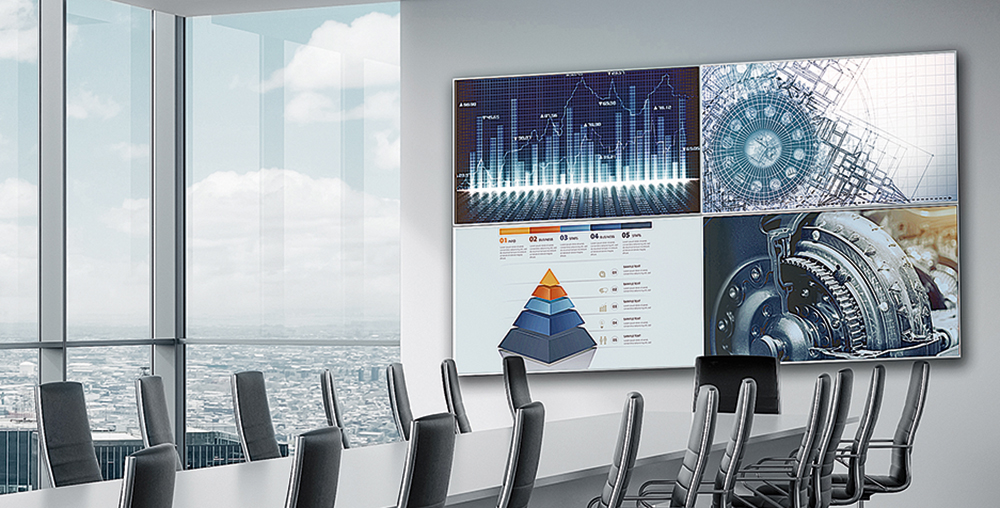 For practical reasons, the displays that make up video walls are usually controlled via the HDMI interface. Cables, connectors, extender systems – all AV transmissions here take place via HDMI. It is not unusual for displays to have no other AV interface at all, and so the connections for video wall control units must also feature HDMI in order for the installation to work. Anyone who wants to feed a video wall with AV content from a DisplayPort interface for example, will not be able to in most scenarios.
DisplayPort Advantages
In addition to higher bandwidths, DisplayPort has other capabilities that HDMI cannot match. This starts with the secured connector, which features a snap-in mechanism by specification to protect the connection against unintentional disconnection. DisplayPort also features Dual Mode, which since DP version 1.1 with the DP++ standard, has ensured HDMI displays can operate with the DisplayPort interface using simple adapter cables without the need for active electronics. Although the two standards couldn't be more different in terms of their electrical signalling, the DP++ interface automatically detects when an HDMI monitor is connected and switches the signalling from DP to HDMI. MST (Multi-Stream) mode is another advantage of DisplayPort over HDMI as it allows multiple AV signals to be fed through a single DisplayPort cable between displays and the source device. All that is required is a DP cable between each display.
The Best of Both Worlds
The DP-HDMI video wall processor from Lindy allows up to 4 HDMI displays to be controlled in various operating modes from one DisplayPort source.

First of all, this device can be operated in video wall mode, which allows it to generate a 2×2 video wall with four 1080p displays from a DisplayPort source with 4K image resolution (3840×2160@60Hz). The 4K image content appears distributed over the 4 screens of the video wall.
The video wall processor can also be operated in duplicate mode as a splitter, in order to display the same image content several times on several displays. Here are the three configurations which can be achieved:
When using four 1080p displays, you can display four identical picture contents with a resolution of 1920×1080@60Hz each
Or alternatively two different image contents with 3840×1080@60Hz each in two groups of two 1080p displays each
When using two 4K displays, two 4K image contents with a resolution of 3840×2160@30Hz each can be displayed
Extended mode also offers the possibility of displaying the extended Windows desktop with two different image contents on four 1080p screens, combined into two display groups of two displays each, with a total resolution of 3840×1080@60Hz.
Finally, in the Expanded or Eyefinity mode, which is of particular interest to gamers, it is even possible to display up to 7680×1080@60Hz using four 1080p displays next to each other. Or 7680×2160@30Hz on two 4K displays side by side.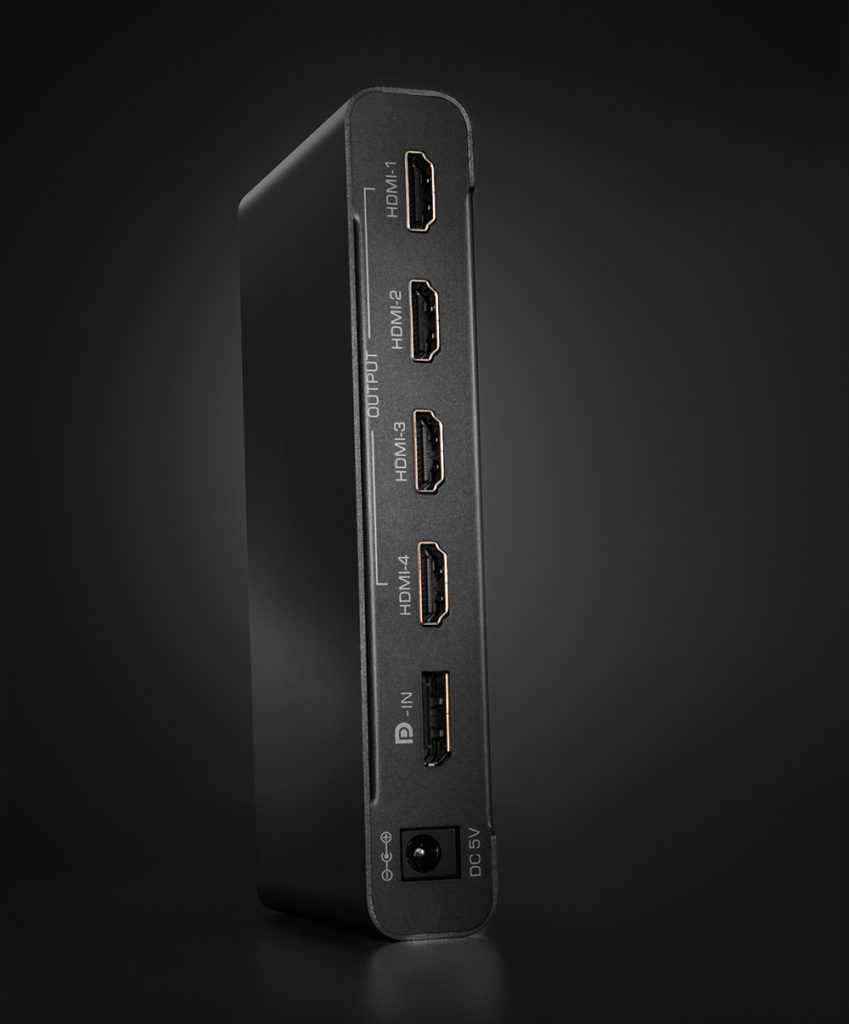 Multi-Functional
The device is easily configured via the config menus of the graphics card used in the PC and via the output ports used. If you want to set one of the modes that uses only two screens, only the HDMI outputs are used, otherwise all four. The manual describes the setup procedure for the different modes for the most important GPU manufacturers. The EDID handshake between the displays and the video wall processor or between the video wall processor and the graphics card is used to set the resolution and refresh rate. Thanks to its compact dimensions (155x72x25mm), the handy device can easily accompany the user anywhere, for example at events, training or sales meetings, making it a mobile and multifunctional all-round AV processor unit.
DisplayPort By Lindy
Discover more extenders, splitters, switches, converters, adapters and cables from the high performance, versatile and reliable Lindy product range with DisplayPort technology. With high resolutions, long distance transmissions and active converter technology, Lindy's DisplayPort products provide truly state-of-the-art connectivity in every installation.