AVIXA is collaborating with Lindy on a series of Italian webinars to serve the region's pro AV market. The first of four webinars will take place on 27 November from 4pm to 5pm CET and is titled "Smart Working & Collaboration". Presenters will explain the benefits of a stable connection, look at how wired solutions can boost collaboration, and provide an insight into the next generation of Ethernet cabling – Cat8. Further webinars are planned for 2020.
"This series is a fantastic addition to our education programme in Italy," says Chris Lavelle, Senior Director of Development EMEA, AVIXA. "We had a great deal of success with the previous webinars held in association with Lindy, and the standard of content was excellent. We are committed to serving the needs of the industry in Italy, and we believe that by delivering high quality educational content, we can help to nurture this market further."
In 2017, Lindy and AVIXA completed a four-webinar series (in four languages) with a total of more than 10,000 participants. Following the "Smart Working & Collaboration" session, a total of three webinars will take place in 2020; on 16 March, 13 May, and 14 October.
"Many of our clients in Italy are talking about wired signal management and signal transmission from ever-higher-resolution content over long distances, and the associated challenges," says Christian Westenhöfer, Head of Global Marketing & Brand Management. "This topic creates a huge need for information among our customers and partners and we are pleased to be able to remedy this situation. The online webinars in cooperation with the Italian colleagues of AVIXA are the most efficient way to further their education."
Christian adds: "Participants can take part in the office, at home and even on the go via smartphone, and in just 60 minutes they will receive concentrated specialist knowledge without having to travel or be away for long periods. Nevertheless, the whole webinar is live, and presenters can respond to individual questions from participants in the chat section. This form of knowledge transfer is becoming more and more popular, which is why we are kickstarting our cooperation with AVIXA in Italy again in 2019, and expanding our webinar offering further in 2020."
Webinars under the motto "hi – Tinkerers, Innovators and Techies welcome!"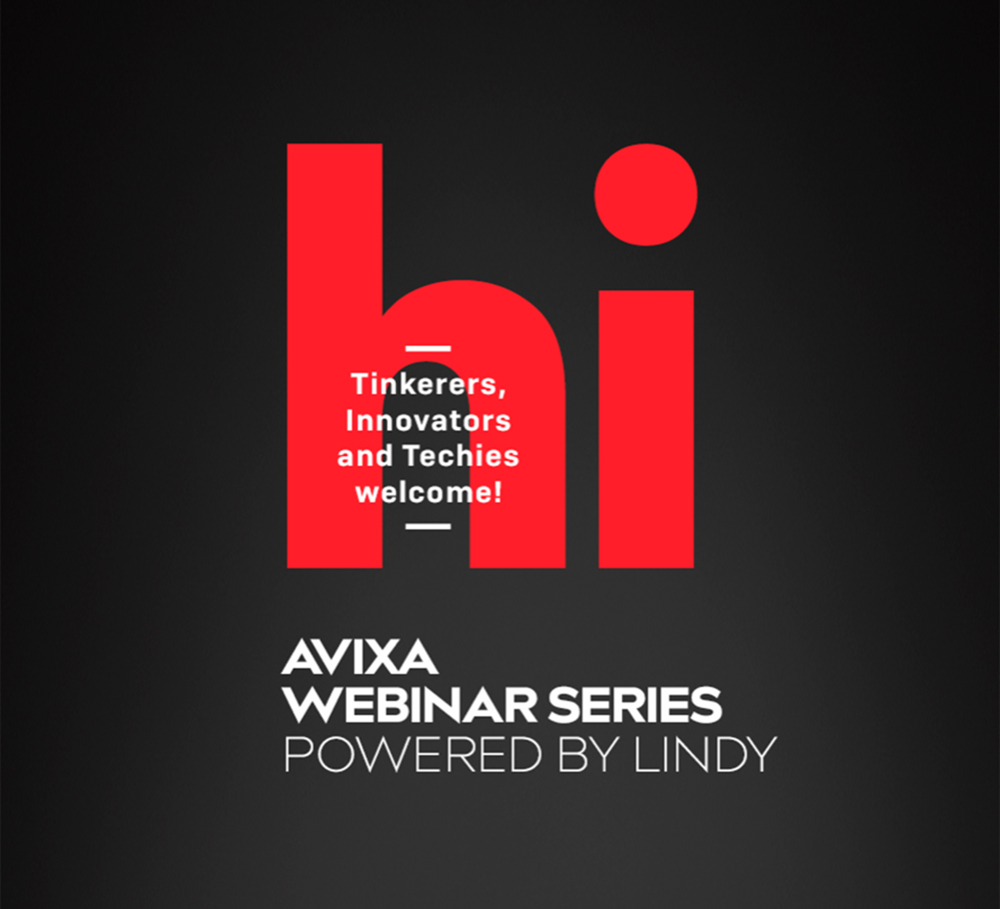 In view of the constantly increasing international competition, the European industry must keep its finger on the pulse in order to remain competitive. Therefore, it is important to consistently expand our knowledge and to use it again and again in a profitable and targeted way for customers in the form of new technologies, trend-setting products or changing user requirements. Together with AVIXA, Lindy provides this urgently needed AV and IT know-how on the subject of wired signal management to support customers and partners in this critical success issue. To register for the Webinar on November 27. click here
---
About AVIXA
AVIXA™ is the Audiovisual and Integrated Experience Association, producer of InfoComm trade shows around the world, co-owner of Integrated Systems Europe, and the international trade association representing the audiovisual industry. Established in 1939, AVIXA has more than 11,400 enterprise and individual members, including manufacturers, systems integrators, dealers and distributors, consultants, programmers, live events companies, technology managers, content producers, and multimedia professionals from more than 80 countries. AVIXA members create integrated AV experiences that deliver outcomes for end users. AVIXA is a hub for professional collaboration, information, and community, and is the leading resource for AV standards, certification, training, market intelligence, and thought leadership. Visit avixa.org.