Transmission of 4K content over 300 meters
The Fibre Optic HDMI 18G Extender from Lindy converts 4K UHD HDMI signals into optical signals and transmits them reliably over up to 300m using a duplex LC-OM3 multimode fibre optic cable. The extender system consists of two modules, transmitter and receiver, which are connected to an HDMI source on the transmitter side and to a display on the receiver side. The extender transports 4K UHD signals including High Dynamic Range (HDR) and thus offers high resolution video transmission with more contrast and better brightness as well as a wider colour spectrum.
The system supports the lossless transmission of HDMI signals and multi-channel audio formats such as Dolby Atmos. It can also handle EDID pass-through and HDCP 2.2, ensuring maximum compatibility with different input and output devices when playing back high definition video streams, Blu-ray or gaming content.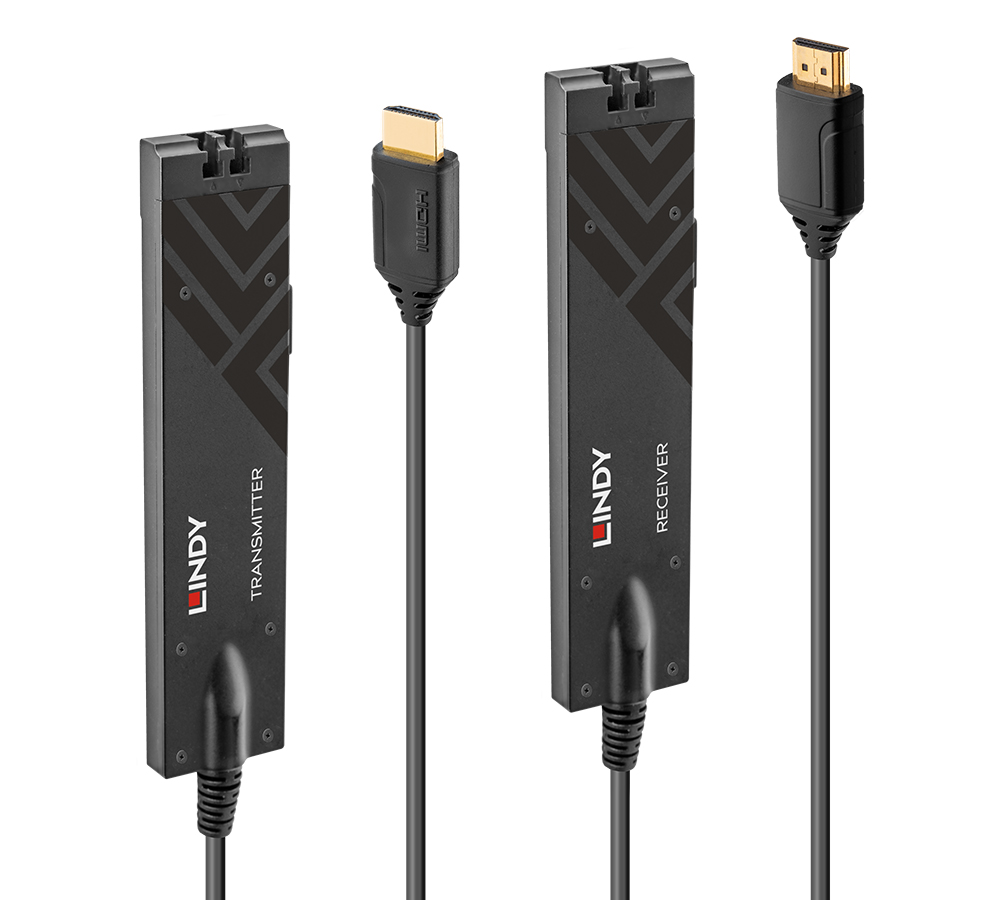 The easy-to-install Fibre Optic HDMI 18G Extender is powered by the included USB cables. Since the extender has only two HDMI connectors in total – each on the HDMI input or output – it offers increased reliability. The slim connector housings allow connection to displays and graphics cards even in tight spaces without disturbing adjacent connectors. Due to its compatibility with HDCP, the extender also enables the transmission of copy-protected content.
The Fibre Optic HDMI 18G Extender is suitable for demanding applications where high quality video content needs to be transmitted over very long distances and is therefore aimed at AV professionals in the event, outdoor advertising, cinema, trade fair and rental sectors; it is also suitable for complex gaming installations, for example.
Technical Details
The Fibre Optic HDMI 18G Extender from Lindy uses a standard OM3 class fibre optic multimode cable with LC duplex connectors (50/125 ?m). The fibre optic transmission medium can be utilised up to a maximum transmission distance of 300m. The extender transmits AV signals with a bandwidth of 18Gbps and therefore supports 4K UHD resolutions of 3840×2160@60 Hz and 4:4:4 8bit. It can handle colour depths of up to 12 bits and, in addition to several HDR formats such as HDR 10, Dolby Vision and HLG, enables multi-channel audio formats such as Dolby Atmos, True HD and 7.1 with a sampling depth of 24 bits and a sampling rate of 192kHz. The fly-leads on the HDMI side of the Rx and Tx are permanently mounted on the Rx and Tx sides respectively, ensuring increased reliability by using galvanic connectors.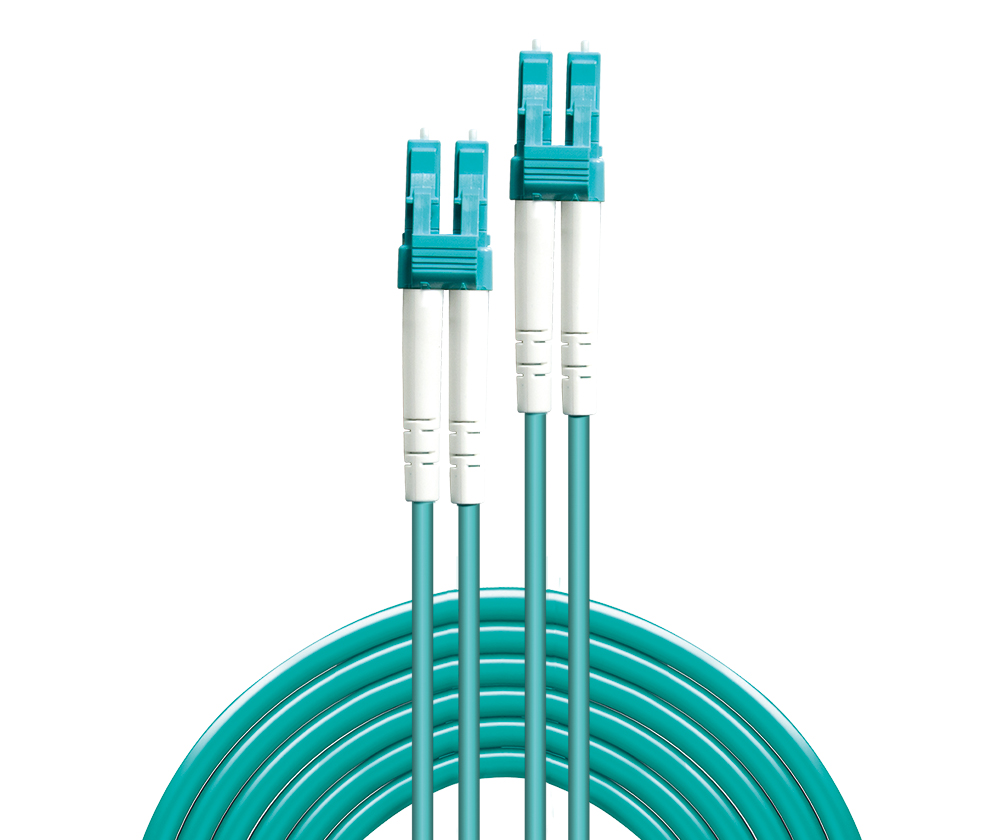 Technical Characteristics
• FO extender for standard LC duplex OM2 fibres in the required length up to 300m
• 18G resolutions up to 4k UHD with 3840×2160@60Hz 4:4:4 8bit
• Supports various HDR formats
• Supports multi-channel audio formats such as Dolby Atmos, True HD & 7.1
• HDCP and EDID pass-through for maximum compatibility
• 'Hot Pluggable HDMI fly-lead' – reliable connection through use of connectors
Prices, cover and scope of delivery
The Fibre Optic HDMI 18G Extender (No. 38179) is available now from the Lindy Online Shop or through Lindy partners. Included in the delivery are the transmitter unit (Tx) and receiver unit (Rx), two 1 meter 'USB Type A (Male) to Micro-B (Male)' cables and the manual.
Please note that this extender supports DisplayPort 1.1 to 4K30 / 3840×2160@30Hz when using the Lindy converters No. 41068 (at source) and No. 38146 (at monitor).
The product will be presented at ISE 2020 integrated in a more complex solution scenario. Further information can be found in the Lindy Webshop.