The modern home is becoming a technology hub with devices in constant communication across multiple rooms. Centralised signal management has become a large part of the home technology experience. As more devices are added, further away from this central location, cost-efficient and versatile extenders become necessary. This scenario explores the use of four differing extension technologies from Lindy, including powerful fibre optic extenders, to distribute signals up to 300m in residential environments.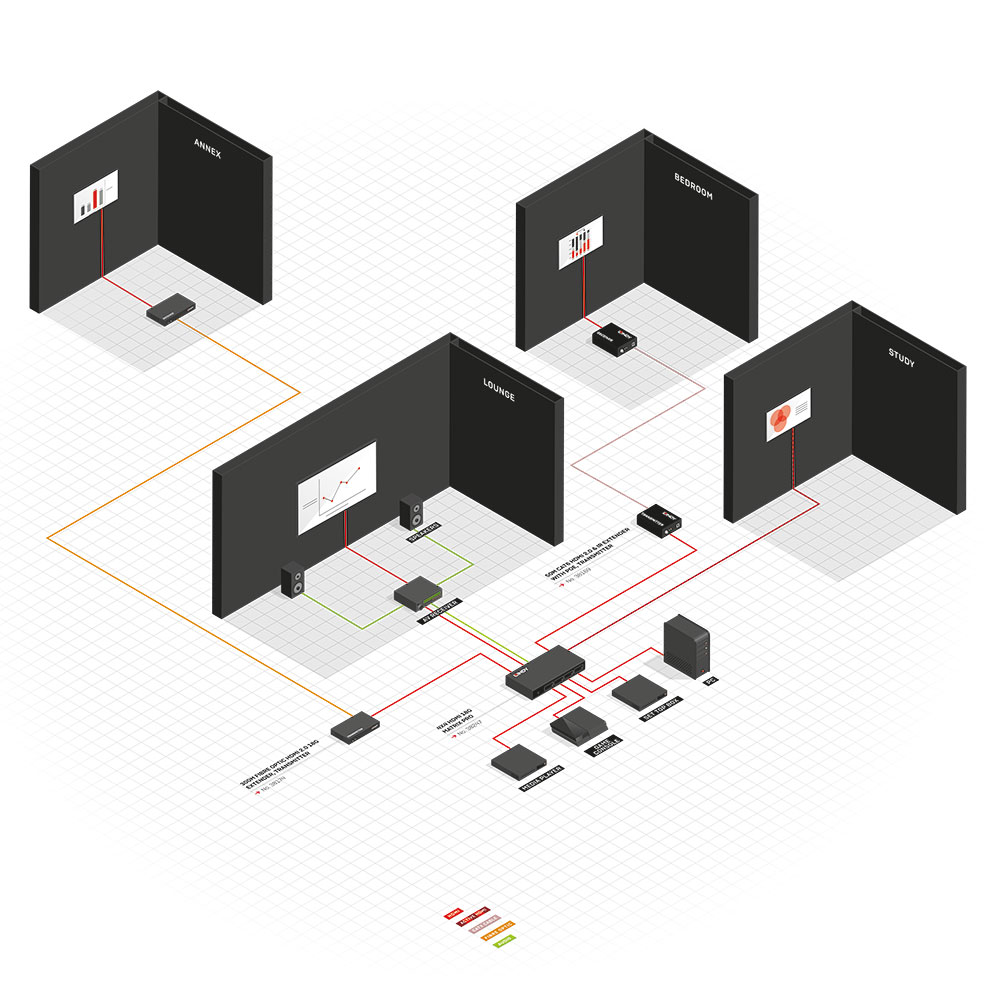 Modern residential buildings often feature multiple displays and media sources that use a variety of media signals to transmit audio and video across longer distances as annex or out-buildings become more popular.
In this example four sources are controlled and distributed by a central matrix around a home and to an out-building. The four sources are connected via HDMI cables to a local 4×4 Matrix Pro which then outputs the four signals using different transmission methods for signal extension over a variety of distances. This matrix supports 4K 18G inputs and outputs to ensure that, if the source permits, the entire solution can utilise the full 18G bandwidth capacity of the latest HDMI standards.
In this scenario the matrix outputs to four different transmission technologies. The first, and simplest, of these is a standard local HDMI cable that is provides the 4K connection directly over short distances to a local display. Using audio extraction, the audio signal is first routed to an amplifier before the TV so that a speaker system may be used inplace of the TV's integrated speakers.
The second output from the matrix is transmitted via an 18G active HDMI cable to a room close to the location of the matrix. The third output passes through a 100m HDMI over CATX extender system. The transmitter unit is connected to the matrix by a simple HDMI cable before the signal is sent along inexpensive CATX cable to the receiver unit which is upstairs/some distance from the matrix. This receiver is placed close to another 4K display which the signal is finally sent to via HDMI cable.
The fourth, and final, output from the matrix is sent to an out-building, annex, pool area etc. via a fibre optic extender system that features both transmitter and receiver units. By using fibre optic cables to make this connection, large distances up to 300m can be covered using cheap, efficient and easy-to-install duplex fibre optic cabling. This method of signal transmission benefits from EMI & RF resistance so that other electrical cables or equipment located nearby don't cause artefacts or errors in the transmission. The fibre optic connection allows IR signals to be sent to the display for remote control of the source while also delivering the full 18G bandwidth with no compression, ensuring content arrives at the display exactly how it left the source.
RELATED STORIES
RELATED SCENARIOS
RELATED PRODUCTS