High bandwidth signals are the basis for many of the most visually stunning digital signage in the world today. These signals require powerful devices operating behind the scenes to provide versatile control, complex distribution over long distances and the bandwidth capacities for 4K resolutions and beyond.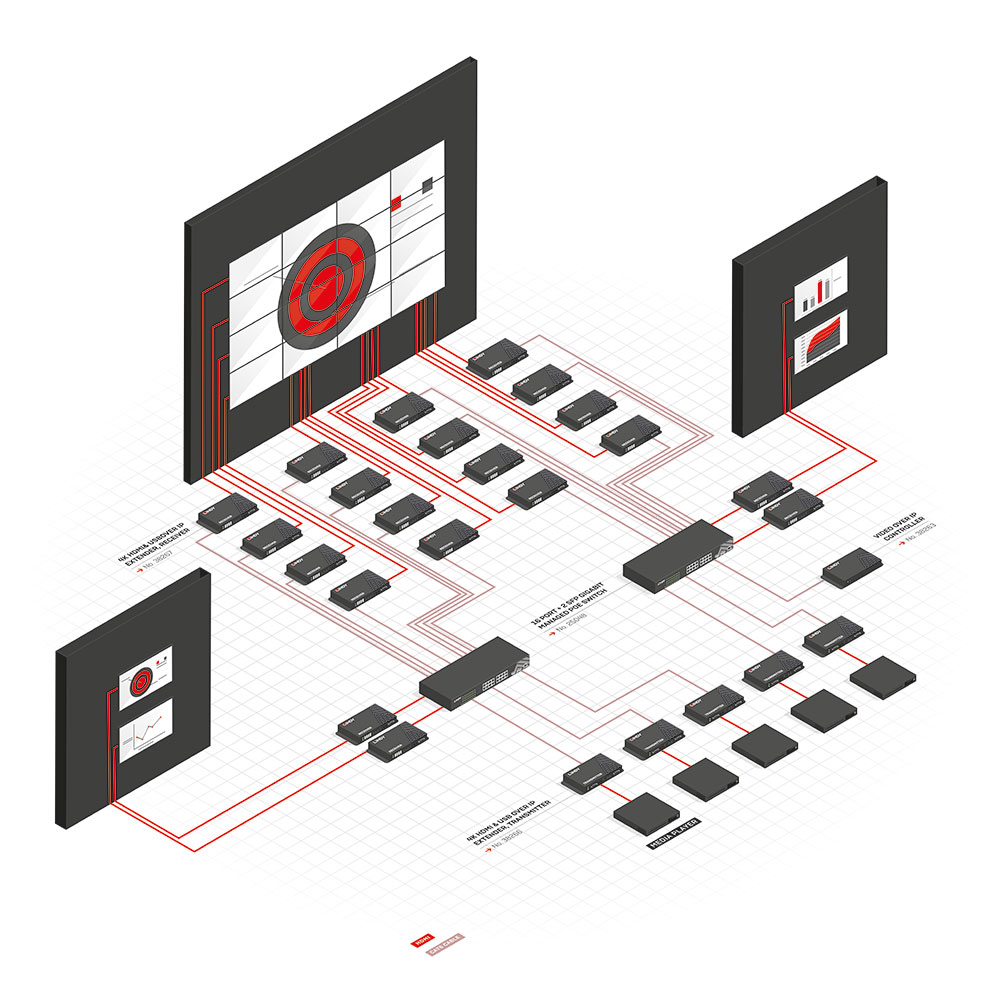 In this scenario a versatile and powerful video over IP system is used to distribute 4K video from 5 media players to 16 displays arranged in a 4×4 video wall.
By using this Gigabit Network Switch & Controller combination, a range of display modes and easy to use control systems are available. IP technology allows for high bandwidth signals to be sent over long distances without the need for expensive optical cabling. In this scenario IP technology is also combined with a high-performance switching device to distribute signals intelligently to multiple displays in the room.
To create this video wall solution five media players with HDMI output, these can be Blu-rays, PC's, Android devices etc are connected to IP transmitters using Anthra Line HDMI cables (up to 5m) from Lindy. By using shorter lengths of HDMI cables 4K resolutions @60Hz are supported while keeping costs low, as any distance lost between source and transmitter can be made up for with CATX cable later in the solution.
IP signals that match another creation that we can always see, enjoy and explain to one or another.
The IP transmitters convert HDMI signals into IP signals that can be passed through CATX cabling to a Lindy 8 Port Managed Gigabit Switch up to 100m metres away. Covering this distance with standard HDMI is not possible unless using hybrid fibre optic cables or fibre optic extenders, which increase the cost significantly and only allows for point to point transmission.
This versatile IP switch allows for point to multipoint distribution and allows any source device to be routed to any display, providing creative layout possibilities. Information can be presented in a variety of engaging and clear ways for audiences to interact with. This switch is combined with an IP video controller that provides a Web GUI for easy monitoring and layout switching. Signals can then be routed to specific displays instantly using either pre-defined layouts or layouts created on the fly.
For example, smaller video walls can be created by using some of the displays, this video wall within a video wall can then be surrounded with additional information. This can prove especially useful when large screen content such as advertisements or emergency information need to be supplemented by further information from different sources.
The IP switch is then able to distribute the HDMI signals a further 100m using CATX cables. In this example these cables are plugged into sixteen HDMI IP receivers that can be mounted on the back of each display. These receivers convert the IP signal back into HDMI before passing the signal through another HDMI cable and into the display.
This solution utilises state-of-the-art IP technology to create a cost-effective, 4K multi-distribution video wall system with a user-friendly interface and the ability to creatively present stunning content.
RELATED STORIES
RELATED SCENARIOS
RELATED PRODUCTS