The advantages of a desktop computer are obvious: a large monitor for 5k resolutions, a separate mouse and full-size key-board significantly increase the ease of use of a workstation. Nevertheless, in the modern world of work, laptops are an everyday reality due to their mobility and compact dimensions. Lindy's new range of laptop docking stations brings together the best of both worlds. Via a single USB cable type C, multiple screen contents can be sent simultaneously to several displays and all USB peripherals can be used simultaneously. The notebook can also be connected to the wired office network via Gigabit Ethernet. It can also be charged via Power Delivery.
INTERFACE MANAGEMENT
This is where Lindy's portfolio of mini and micro docking stations comes in. Depending on the requirement profile, the appropriate model can be used here to be able to adapt the interface offer of the laptop to the respective peripherals on site in a required manner. If you need as many options as possible and are dependent on high USB transfer speeds, you are well advised to use the USB 3.2 Type C Laptop Mini Dock (No. 43323). Apart from 2 USB ports type A and one USB port type C, it provides HDMI, DisplayPort, Gigabit Ethernet, an analogue audio output and an SD card reader. The video outputs support resolutions up to 4K at 30 Hz 4:4:4 (or 4K@60Hz 4:2:0) for single use. If Full HD resolutions are sufficient, then both video ports can be used simultaneously and thus including the laptop screen a setup with 3 displays. The fixed USB Type-C cable connects the dock to the laptop in no time. And thanks to support for Power Delivery 3.0, the notebook can also be charged with powers up to 100W via this cable, the dock and the notebook power supply.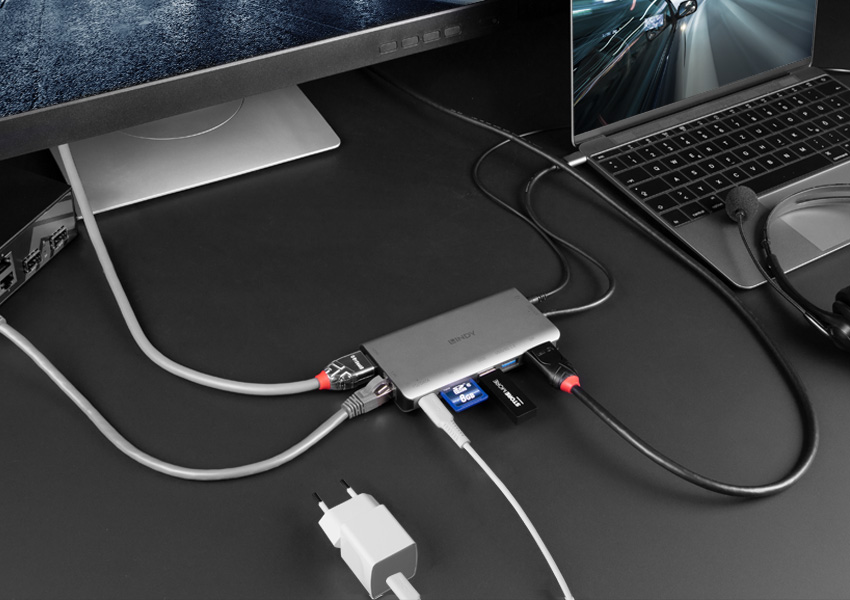 BACKWARD COMPATIBLE
If you do not need quite as many USB ports and can do without the DP port, the USB 3.1 Mini Dock (No. 43278) is recommended. It can be used – for example in the office – to control a HDMI monitor with up to 4K@30Hz or – e.g. in the home office – to control an old but still reliably functioning VGA treasure with Full HD. This also works simultaneously if, for example, the VGA monitor is to act as a second display next to a HDMI monitor. Nevertheless, the dock uses DisplayPort Alternate Mode, which ensures that it can be easily connected to the notebook via USB Type C. Via the Gigabit Ethernet port, the notebook can also be used in wired networks. The integrated SD and micro SD card reader ensures easy reading in and out of transportable data and the three USB ports (USB 3.2 Gen1) for uncomplicated connection of the peripherals with up to 5Gbit/s. Support for Power Delivery 3.0 also makes this dock a charging station, from which the notebook can be charged simultaneously while working via USB port.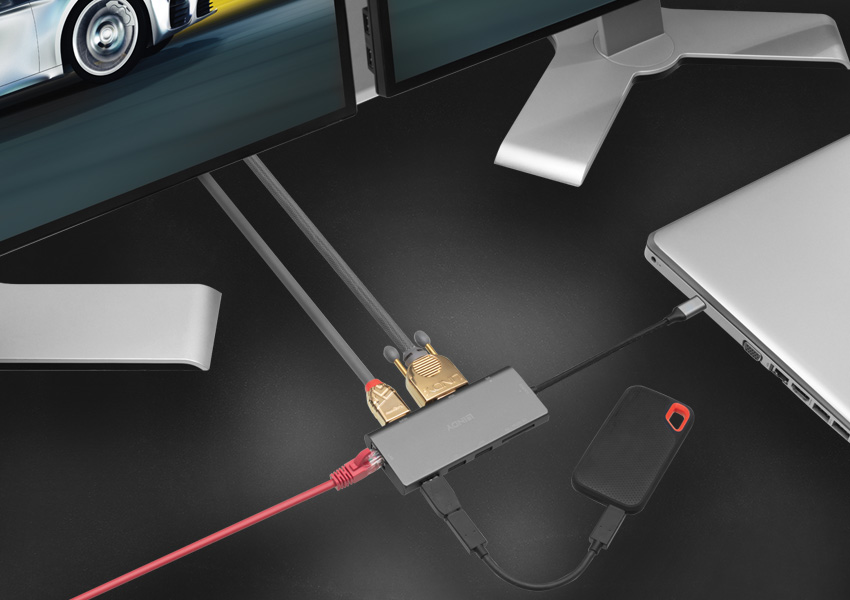 HIGH SPEED
If more than 5 Gbit/s are required – e.g. due to large amounts of data to be transported – it is recommended to use the USB 3.2 Gen 2 Type C Mini Docking Station (No. 43319), which thanks to support for USB 3.2 Gen 2 with 10Gbit/s even large USB data carriers can be filled in no time at all. These can be connected via one of the three USB ports provided. A HDMI monitor can serve as a display, which can be fed with resolutions up 4K@30Hz. With the help of its integrated clamps, the docking station can be easily attached directly to a notebook or tablet, so that the mobility of the notebook can be maintained. The Gigabit Ethernet port also allows connection to wired networks. Support for Power Delivery up to 100W also allows easy charging of the notebook or tablet.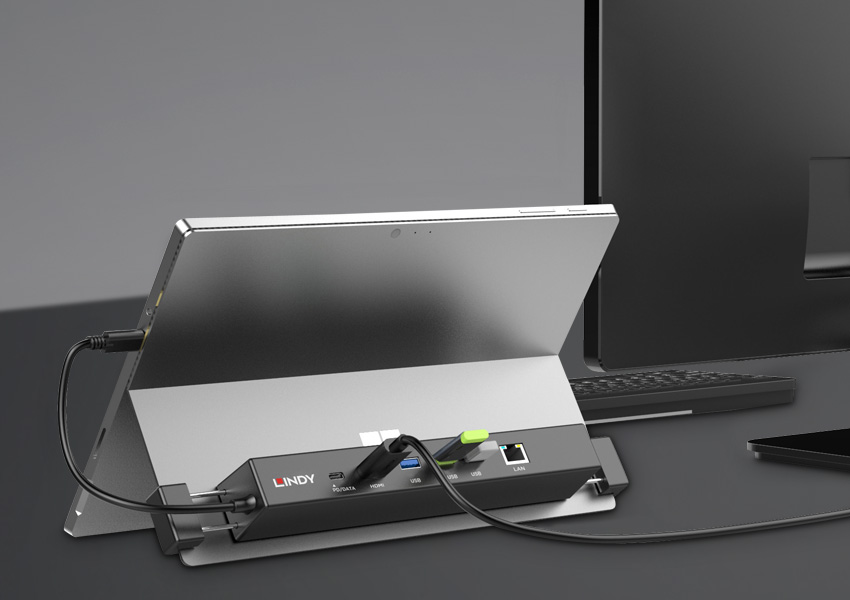 TINY WITH A BITE
In very cramped conditions, the USB 3.2 Type C Laptop Micro Dock (No. 43326) is best because of its space-saving qualities. Despite its tiny dimensions of only 148x36x13mm, it manages resolutions up to 4K@30Hz, comes with two additional USB ports (USB 3.2 Gen 1) and an integrated card reader for SD and micro SD storage media. It supports Power Delivery 3.0 up to 60W. The compact dimensions and the two integrated connection cables make it the ideal companion on the go. Connection Perfection!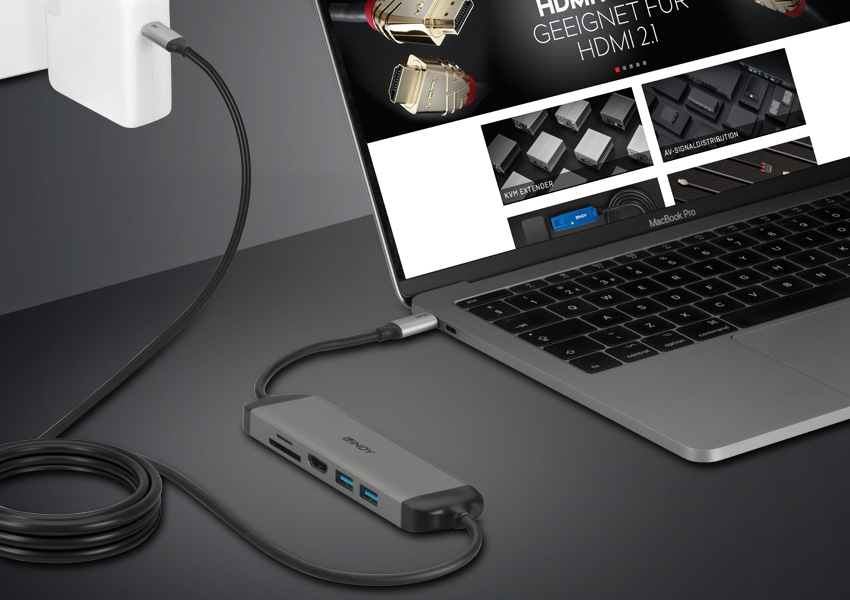 Learn more about Lindy's Range docking station for maximum portability and comfort.